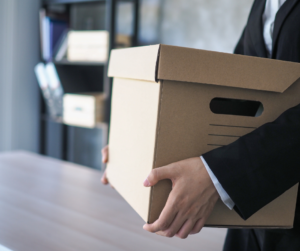 The employment market has taken the American worker on a roller coaster ride over the last year and a half. Unemployment rates hit record highs in 2020 with the spread of the coronavirus (COVID-19) pandemic. Nearly a year later, the Job Openings and Labor Turnover Survey reports new jobs have increased to "a record 9.3 million, as the economy rapidly recovered from its pandemic depths." To add another piece to the employment puzzle, nearly 4 million workers quit their jobs in the same month, coining the term "the great resignation." What caused this dramatic exit? Many employees were spurred to reflect on their priorities during the pandemic and identified more free time as a key factor in their employment future.
As the pandemic spread last year, workers were forced to make arrangements of all types. Those on a temporary hiatus from the office scrambled to adjust to a work-from-home setup. Others who were laid off were pushed to conduct job searches in a market where jobs were few and far between. Additionally, families were pressed to juggle childcare and remote school arrangements with little to no warning. The changes were big and hard, but between all the hustle and bustle workers adjusted to this "new normal." During that transition, many evaluated their prior work-life balance – more specifically, what was working and what was not. COVID-culture put priorities into perspective for many.
Americans experienced burnout at record levels during this stressful time and many came out of this period with a newfound respect for putting their mental health first. As "return to office" notifications landed in inboxes, many decided they were not willing to return to the office full time. A study conducted by Prudential, a global insurance and financial services firm, concluded that approximately 33% of Americans are disinclined to work for employers that aren't offering remote work for a portion of their week. This introspection helped many workers see that their priorities needed to be rebalanced. Many wanted to spend less time commuting and working in the office, and more time on personal interests and with loved ones. This "aha" moment, coupled with a resurgence of new jobs in the market, led many to feel a newfound sense of confidence in finding a new opportunity. And that resulted in a dramatic shift in the number of employees choosing to leave their jobs, feeling they would find roles with more flexible work hours and supportive work environments.
There is no doubt we will continue to see fluctuations as our economy responds to this newly resurgent employee market. Employers can be proactive in retaining employees who may be evaluating their current work-life balance. Managers and Human Resource staff can engage with employees early and often. Don't wait for your employees to raise a concern about workplace flexibility – lead the charge by looking into what your company can do to support this interest.
©2021 United Benefit Advisors, LLC. All rights reserved.